6 month individualized Tantra Coaching Program
Transform your love life into a source of energy, inspiration and fulfillment
Transformation for modern couples who are ready for passionate sexuality through ancient tantra practices
Embody a deep connection to yourself, your partner and your sexuality
Imagine your partner coming home and you are really looking forward to seeing him/her again. You feel the deep connection between you and really feel seen and heard when you share about your day.
Even with topics that used to trigger you and lead to arguments and resentments, you can now listen calmly and understand your partner's perspective. Leading to the ability to find a solution that suits you both faster and faster.
And at the same time you feel a strong attraction again… the tingling of passion lets you touch each other a lot, a hug easily, becoming more and more intimate and kissing more and more passionately. The thought of sex creates excitement in you… desire and anticipation.
The love making itself is loving and playful – full of lightness and joy. The insecurity and shame you may have once felt is completely gone and in its place you feel the curiosity to go deeper and discover new things. You find it easy to communicate your wishes and even to live out fantasies together that you have kept secret for years.
You play with different qualities. Sometimes it's wild, sometimes very gentle… Sometimes you're very active and increase the excitement until just before the climax, then you just lie together, look lovingly into each other's eyes and feel the energy vibrate in your body… Sometimes you take the lead and catapult your partner into seventh heaven, and then you surrender completely and enjoy with all your senses…
The next morning you feel deeply relaxed and full of energy and go to work inspired, where lately you have been receiving more and more compliments for your charisma and creativity.
Maybe that sounds pretty far away now because your reality in the relationship looks very different right at the moment.
But we know this is also possible for you…
I always thought sex was just a lower instinct of men.
Today, I experience sex is a sacred act of love that not only leads to a thriving connection in our relationship, but also reconnects me with myself, my body and the Divine.
Tantra has reignited our passion for each other, even after 6 years of partnership
Like many of our participants, sex has long been a topic of frustration and fights for us.
I – Meli – was often stressed out from work, disconnected from my body and sex was pretty much the last thing on my to do list.
At the same time, I often felt guilty about not being able to satisfy my husband.
So, when we slept together, I put myself under a lot of pressure to "perform", to be a good lover and to have an orgasm – for Damian's sake.
But because of all the inner tension, instead of the orgasm I wanted, I was often in pain and frustrated with myself, my body, and my own failure.
Damian, on the other hand, often didn't know what to do with his sexual desire. Every night he had to listen to a different excuse and felt more rejected, distant and annoyed.
The constant rejection eroded his self-esteem. At first we argued a lot about the subject. Then at some point he gave up and withdrew emotionally.
Due to the physical and emotional distance, we both began to question the relationship.
We tried to get closer again through great vacations and many conversations, but the problems in our sex life continued to stand between us.
When we finally came to tantra, everything changed. We would never have dreamed how much a fulfilled sexuality influences and enriches the relationship.
We learned to get from the head into the body, to relax and to let the energies flow freely. This has greatly strengthened the love and connection between us.
We never thought that tantra would not only help us to finally really enjoy our shared sexuality, but also open up completely new worlds for us – from a deep heart connection, to more energy and liveliness, to ecstasy, experiences of unity and a shared spirituality.
So not only did Tantra save our marriage, but it also unlocked the connection to our Higher Self and personal power.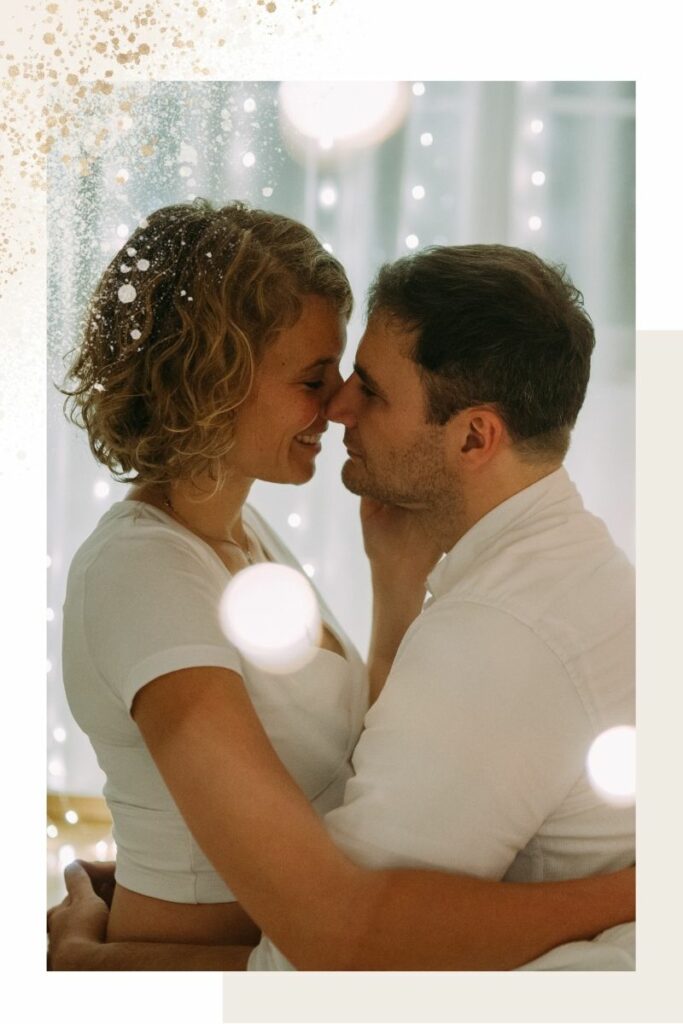 We invite you to join our VIP tantra coaching program for couples
Couple coaching and tantra – a
holistic approach
Break through unhealthy patterns and learn to communicate appreciatively through couple coaching
Get out of your head and unleash the power of your body and create a fulfilling love life through Tantra
6-month tantra course, which is not just about learning the theoretical basics and trying out new sex practices, but about experiencing holistic healing and transformation.
In the 1:1 or couple coaching sessions you get an expert (Damian) who really understands you and your challenges and supports you in overcoming old patterns and expressing your love for each other.
In the live practice calls that are personally tailored to you, you will learn to really embody tantric principles, to escape the hustle and bustle of everyday life, to feel yourself again, to enjoy with all your senses and to experience the magic of body work and energy work.
This is not a standard program, but leaves a lot of freedom for your individual wishes and priorities in order to create the partnership you have always longed for.
A complex challenge needs a holistic solution
Many people have some idea of ​​what it takes to solve their problem and then try again and again – often without achieving the desired results.
Many years of going from couples therapy to couples therapy, analyzing every aspect of one's childhood with no time limit to feel what it feels like to be loving and to be seen.
Others regularly buy new sex toys, underwear or erotic films without asking themselves what the actual reason for their lack of desire is.
And still others go on diet after diet – hoping to be able to enjoy sex when they have the perfect body – without initially questioning what emotions and beliefs are holding them back from accepting themselves as they are.
No matter what you've tried so far, maybe it's time to try something new and work on other levels too… to find a holistic solution.
Most of the time it takes awareness and understanding (cognitive), as well as feeling (emotional) and embodying (physical) to achieve a lasting change in the subconscious.
And above all, new habits and positive reference experiences are needed to really anchor the new behavior. This doesn't happen overnight, but takes time and – ideally – an environment that supports you.
With our Intimate Connection program, we create exactly this safe environment for you over a period of 6 months, which supports you in experiencing holistic transformation and anchoring it step by step in your everyday life.
Testimonials from the tantra coaching program
Couple coachings (Damian)
For me, the tantra coaching with Damian was a real reference experience that I had never experienced before.
I often prefer to do coaching alone and try to reflect on my behavior with the coach, etc. Since I'm a very "cerebral" person, it works quite well on my own and I think I've learned a lot.
But in everyday life, in contact with my partner, when we trigger each other, I often escape into my head and she becomes emotional and we can no longer get out of this state/conflict on our own, because everyone is in their own world and nobody is in one can create safe space.
Damian took over this for us through his coaching. He accompanied us very attentively and sensitively and picked everyone up in their world and brought us back into contact.
For me, that meant I was able to show real feelings towards my wife, which immediately softened her heart.
And then we were in contact again and could talk or be with each other again. I've never done it alone before because I was always afraid of being emotionally hurt.
Damian's presence made me feel safe enough. This experience made me aware of how important it is in everyday couple life to get a coach regularly when it feels very difficult and hardened.
You just can't get out of it alone, and at the same time it can happen so quickly if someone can make the space safe. Thank you Damian!!!
Alex, 42
Tantra practice calls (Meli)
Thank you, thank you dear Meli for the wonderful breathing session with you and your magical way and companionship.
You opened a space for me and, after what felt like an unbearably long time, made it wonderful and easy for me to finally get in touch with my vulnerability and grief again. For me it was like the long-awaited breakthrough. And you kept the space for it very well.
In addition, I had completely surprising and great insights that have helped me in my processes in an absolutely target-oriented way.
I felt safe and well guided and held throughout the session.
Thank you dear Meli.
Klaus, 56
Many engage in sex like in a competition – tense and focused on the intended goal.
Tantric lovemaking is more like a meditation – relaxing and curiously observing what is happening in the body as the heart opens and consciousness expands.
3 steps to your
ideal relationship
It is often old patterns and beliefs that stand in the way of our happiness
We often repeat the same (unhealthy) relationship dynamics of our parents because we've learned that's what love looks like. Do you know that? Your partner triggers strong emotions in you and you react subconsciously in a way you never really wanted to be?
In order to really become free and to create the partnership you desire, it is about creating awareness of your own patterns and beliefs, questioning them and letting go. Powerful tools like NLP and Breathwork can help you reprogram and realign your subconscious to ultimately live freely and self-determinedly.
True fulfillment lies in connecting with yourself, your partner and the big picture
We all yearn deep in our hearts for love and connection. There is nothing more beautiful than the feeling of being seen, heard and understood – and above all, being loved for who we really are. Because only then we can relax completely, show authenticity, trust and ultimately also indulge and enjoy our sexuality…
We are convinced that every person is lovable and has infinite love within them. It's just a matter of remembering. Therefore, the focus of our work (reConnect) is to restore this connection to ourselves, our partner and the divine / whole.
A fulfilled relationship does not only consist of love and understanding, but also of adventure, passion and ecstasy
In tantra, the principle applies: everything is allowed to be. Spirituality and sexuality are not contradictions. Just as little as wildness and tenderness. So the love game is sometimes passionate and powerful, sometimes very gentle and meditative. Sometimes it's about seducing your partner using every trick in the book, sometimes surrendering completely and enjoying with all your senses.
Shared sexuality is an essential part of a love relationship. Sexual energy is creative power and life energy that can help not only our relationship, but also each individual to flourish and let our light shine.
We invite you to join our VIP tantra coaching program for couples
The tantra coaching program is for you if you…
This is not for you if you…
Our experience and certifications
We invite you to join our VIP tantra coaching program for couples
FAQ – Frequently Asked Questions about Tantra Coaching
How exactly does the program work? How many calls are there? What happens between the calls? And how much time and money do I have to plan for it?
These are all important questions that we clarify together in the consultation.
The program is tailored to your individual needs, we first need to understand what your exact challenges and goals are. On this basis we discuss the exact structure and course of the program.
If you identify with what is on this page and would like to learn more about the program, please arrange a telephone appointment with us.
Was kann ich tun? I would like to take part in the program, but my partner does not want to participate. What can I do?
In fact, it often happens that one partner feels the urgent desire to change something, but the other is not (yet) ready to do so.
You can of course try to give all the reasons to your partner why you want to do it and hope that your partner will d it with you. But if your partner doesn't respond (for whatever reason), it's also important to respect that and not push further.
Basically, we are convinced that it is also possible to transform a relationship if only one of the two works on himself first. Therefore it is also possible to do the Intimate Connection program alone.
And often it is actually the case that the partner joins in later when he/she sees the positive effects the work has on the relationship 😉
We will also discuss exactly how that would work in the first meeting.